Features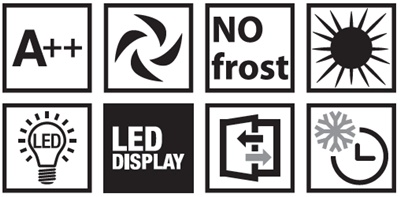 No Frost Freezer
Ventilated refrigerator
Total capacity : 269 lt
Full length LED display
Electronic control
Double alarm : open door / temperature
Reversible door - standard hinges on the right
Slide hinges
Fresh zone
Humidity control
Advanced fast freeze
Refrigerator
Super-Cool quick cooling function
LED Lighting
Fresh-Zone drawer
Stainless steel wine rack
4 glass shelves
2 fruit & vegetable drawers
4 door shelves
Multibox container
Freezer
Automatic defrost
Advanced Fast-Freeze function
Freezing capability: 8 Kg / 24h
1 drawer for fast freezing
2 XL drawers for foods storage
1 ice cube container
High efficiency
Foster refrigerators ensure high performance with energy efficiency. The entire range complies with A++ and A+ energy saving requirements, with consumptions reduced by 40% and 25% compared to the standard A Class; an important contribution to savings in full compliance with environmental protections.
Ventilated cooling system
The ventilation of the refrigerator area allows perfect homogeneity of cooling, ensuring food freshness for longer period. The anti-odour and condensation systems do not alter the internal humidity, preventing fresh food from drying out.
No frost
The fully automated No-Frost technology prevents ice from forming in the freezer by removing moisture using a forced ventilation system in controlled temperature and humidity conditions, thus preserving usable volume.
Climate classes
"Tropical" models offer the most extensive adaptability to climate conditions and temperatures, while maintaining high efficiency and optimal consumption. They are in fact approved for all climate classes: SN, N, ST, T, with a range of suitable temperatures from 10° C to 43° C.


*Please check stock availability with us before placing order
Specifications
Energy Class: A+++
Climate Class: SN/T (tropical +10°C/+43°C)
Annual energy consumption: 230 kWh
Noise: Level39 dBa
Power Supply: 220 - 240V, 50 Hz
Dimension (mm): 540(W) x 1,770(H) x 545(D)
Cut-out (mm): 560(W) x 1,775(H) x 560(D)
Technical Drawings