Features
World Novelty
The only induction hob with automatic Rice Cooking function. Cooks rice to perfection from start to finish.
Space induction
Flex area is designed to use every single corner of the cooking area for different shape of pans. Perfect for grids, grill, TeppanYaki or rectangular recipients.
Flex induction with SlideCooking
Just move the pan from place to place and SlideCooking feature will do the rest. The hob automatically changes the power for maximum convenience, so you will cook over a high flame at the front part of the hob, medium at the center and you will keep your dishes warm at the bottom. A giant leap for comfort cooking.
Urban Colors Edition
MasterSense Series
FullFlex Induction hob
Direct functions with temperature sensors: Rice cooking, confit, poaching, grilling, pan frying, deep frying, quick boiling,keep warn, simmering and melting.
Touch Control MultiSlider
4 cooking zones
4 zones Ø 262,5 X 195 mm
Ceramic glass surface
Auto-lock safety system
Cooking timer
Power plus
Child lock
Residual heat indicator
Power management
Easy installation kit
Maximum nominal power 7400 W
Optional: Grilling plate
Optional: Teppanyaki
*Please check stock availability with us before placing order
Specifications
Fitting measures
Built-in Width (mm): 560
Built-in Depth (mm): 490
Built-in height (mm): 53
Particular characterisitics
Number of electric power levels: 9
Grilling: Yes
Pan frying: Yes
Deep frying: Yes
Simmering: Yes
Melting: Yes
Keeping warm: Yes
Confit: Yes
Poach: Yes
Rice Cook: Yes
Low-temp Function: Yes
Power management function: Yes
Electric connection
Frequency (Hz): 50/60
Power rate (V): 220-240
Cable Connection Length (cm): 110
Maximum Nominal Power (W) (Electric hob): 7400
Cooking zones
Security system
Residual heat indicator (Electric hob): Yes
Automatic safety disconnection (Auto Lock) (Electric hob): Yes
Child lock: Yes
Finish
Surface finishing: Front bevelled glass
Surface type: Ceramic Glass (4mm)
Easy installation system: Yes
Accessories
Junction Kit: Optional
Teppan Yaki: Optional
Technical Drawings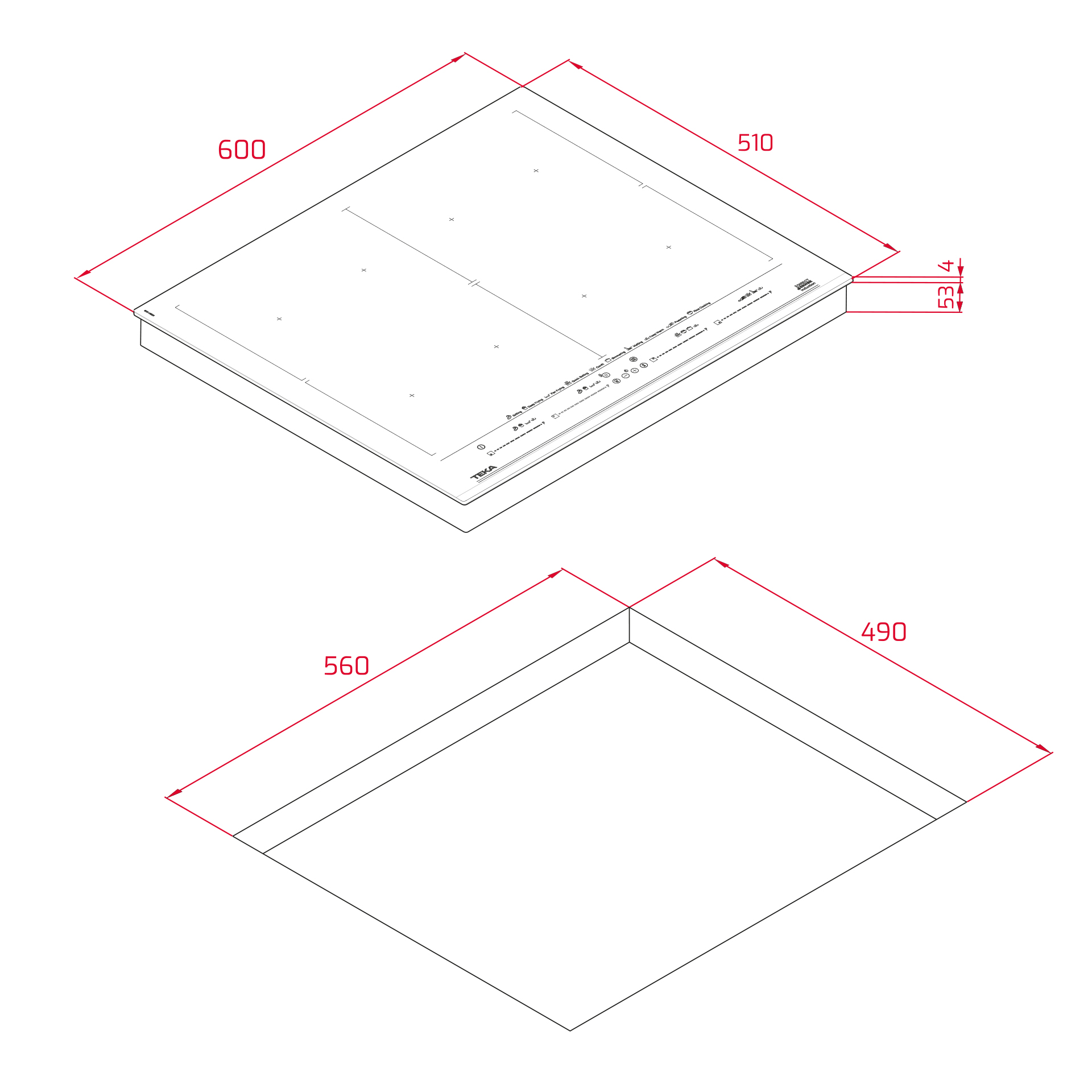 Product Video