Specifications
ExactFlame
Trying to guess the power of the flame is just part of the past. With ExactFlame you can easily control flame intensity with the highest precision. You can choose a range of power from 1 to 9, ready for any kind of cooking you need at any time.
Cast iron grids
Cast iron grids with curve designed to slide every pan from one burner to another with complete freedom. Higher independence to work in any cooking area.
High efficiency burners
High efficiency SABAF® burners reduce gas consumption and carbon monoxide up to 25%. Cook your favorite recipes saving money and taking care of the environment.
Autoignition
You don't need a lighter to generate the spark, the AutoIgnition technology, will generate it automatically. Turn the knob and the flame will show up.
Urban Colors Edition
Gas on glass hob
ExactFlame
Frontal control knobs with ergonomic design
5 cooking zones
1 double ring burner, 4.00 kW
1 fast burner, 2.8 kW
2 semi fast burners, 1.7 kW
1 auxiliary burner, 1 kW
Ceramic glass surface
Auto ignition
Auto-lock safety system
Cast iron grids
Easy installation kit
Maximum nominal power 10.950 W
Optional: Wok support
Silver knobs accessory available
*Please check stock availability with us before placing order
Specifications
Fitting measures
Built-in Width (mm): 850
Built-in Depth (mm): 480
Built-in height (mm): 49
Particular characterisitics
Gas type: Natural&Butane
Maximum nominal power (W) (Gas): 10950
Autoignition: Yes
Electric connection
Frequency (Hz): 50/60
Power rate (V): 220-240
Cable Connection Length (cm): 100
Cooking zones
Security system
Automatic safety disconnection (Auto Lock) (Gas): Yes
Finish
Surface finishing: Front bevelled glass
Surface type: Ceramic Glass (4mm)
Easy installation system: Yes
Accessories
Grid type: Full Grid
Wok support: Optional
Junction Kit: Optional
Cast Iron Grids: Yes
Teppan Yaki: NO
Technical Drawings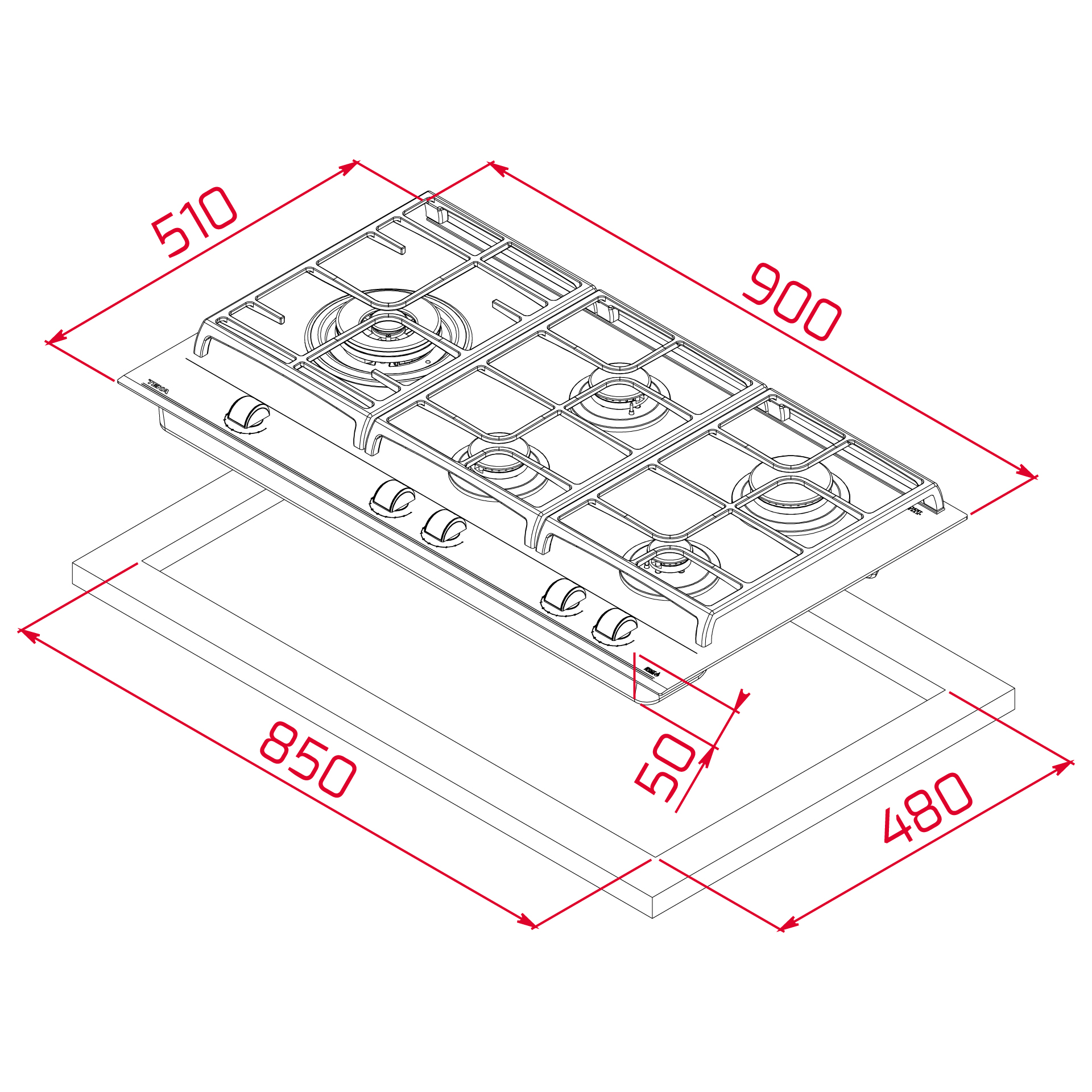 Product Video