Features

POWERBOOST
Booster function provides increased power to the selected plate. In particular, when the Booster is activated, the plate works for ten minutes at a very high power that allows to heat quickly large quantities of water.

POT DETECTOR
All induction cooker hobs detect the pot resting on them, but they also calculate the area they cover. This system allows the energy to be used even more efficiently. Moreover, the plates switch off automatically when the pot is removed.

SMART FAN SYSTEM
Correct ventilation is essential for the induction hob to function in the best possible way. The Foster system automatically regulates the amount of ventilation to suit the temperatures reached.

SAFE COOKING
All Foster cooker hobs are equipped with safety valves. They shut off the gas supply very quickly if the flame accidentally goes out.

END-OF-COOKING PROGRAMMING
All operations are programmed by means of the touch-control on the glass itself. Each cooking plate is capable of independent programming, and thus the possibility to set different cooking times.

TIMER
Indipendent timer from the end-of-cooking function.

POWER CONTROL FUNCTION
PowerControl function allows the use of induction technology also in case of household maximum power as low as 3 kW. The maximum power can indeed be self-limited to the desired level to a minimum of 2.8 kW. Once the maximum power is set, we can forget about the absorbed energy because Foster induction hob will give us a warning about possible limitations, allowing to choose how to allocate the available energy. The hob can be easily reprogrammed at any time to modify or remove the power limit.

BRIDGE ZONE
The new hobs with Bridge function allow to associate two zones forming a single extended cooking zone for pots of large size, or for more than one cooking simultaneously, with maximum flexibility in pot positioning. With the additional Double Booster feature provided by all Bridge hobs, the exceptional 3700 W power can be concentrated on a single plate or made available uniformly over the enlarged area.
*Please check stock availability with us before placing order
Specifications
Coloring: Black
Material: Ceramic glass
Dimensions: 860x530 mm
Full description: Hoods Foster Milano heating element four zones, edge/installation type bevelled edge - for flush-mount (ft) or over-mount (fts) installation
Heating element: Four zones
Operation: Suction hood (filtering mode with optional carbon filters)
Suction speed: 6 suction speeds (4 + 2 intensive)
Air flow rate: 680 mc/h
Built-in hole: View technical data sheet (for all Flush-mount / Top-mount models and Under-mount models)
Grids: Cast iron grids and enamelled burner covers
Width: 86 cm
Total power: 7.400** W
2 front areas: Ø 160 mm - 1.200 (1.600)* W
2 rear areas: Ø 200 mm - 2.300 (3.000)* W
2 extended Bridge areas: 3.700 W
Energy class: A++
Power settings: 9 power settings per zone + Powerboost
Safety: Safety equipment
Type: Induction Hob
Type of commands: Touch Control
Notes: **With the function PowerControl, maximum power can be set on the user to the listed values *PowerBoost
Notes: 2 washable grease filters;
Automatic delayed shutdown;
Grease and carbon filter saturation warnings;
Optional filtering operation with carbon filters.
Technical Drawings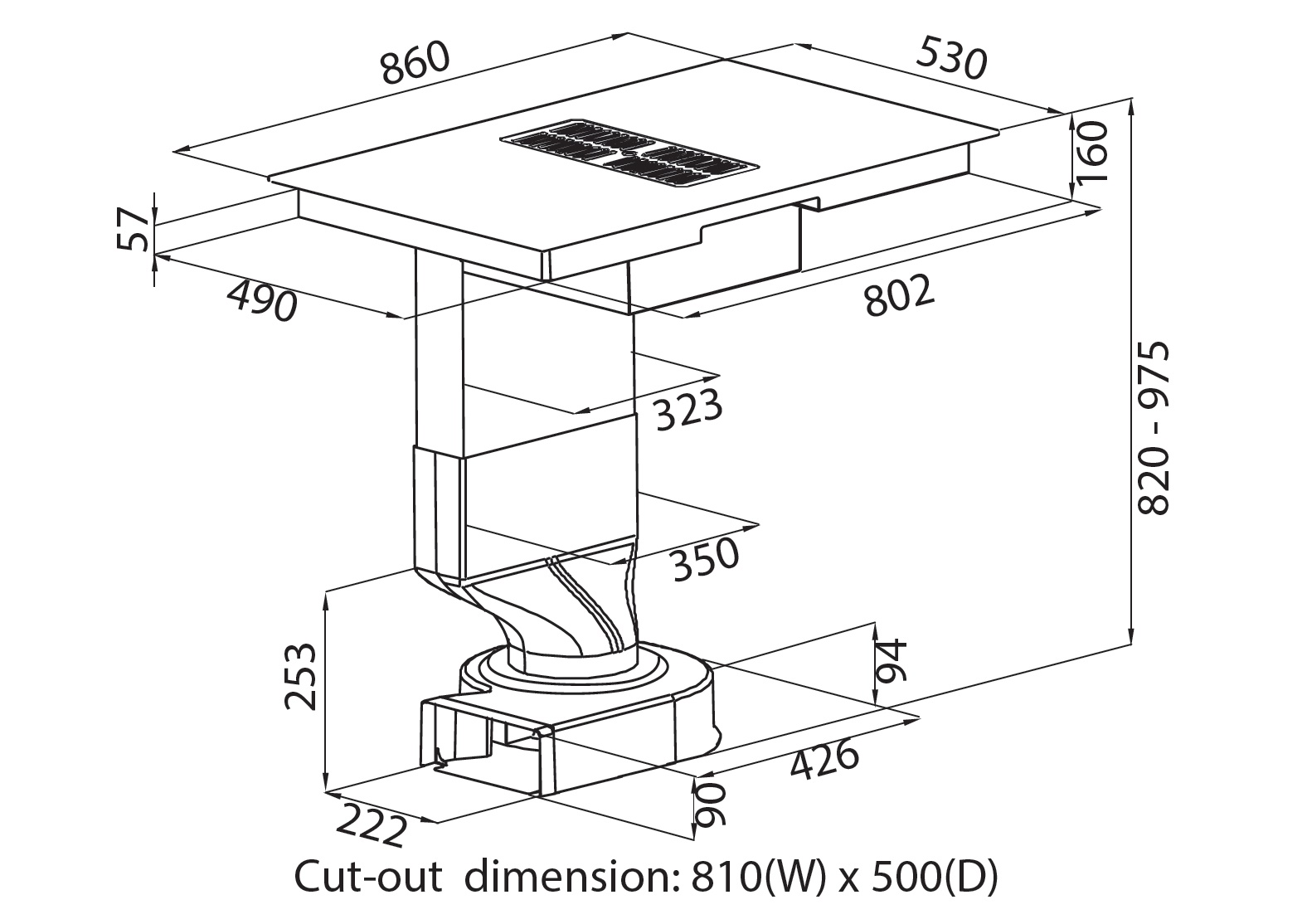 Product Video